You can access FAQs and guides directly from our support platform, as well as get in touch with us directly with any questions or issues you might have. Benefits of using the support channel include:
 

Guaranteed response

Whenever you submit a request, we'll always get you an answer - even if your usual contact isn't available. 

 
Progress tracked

As soon as you've sent a request, you can check to see how our response is progressing. 

.
Community Tips

Discover answers and engage in discussion with other users.
You can submit requests directly from the support platform or over e-mail. 
Submitting a request via the support platform
To submit a request from the support platform, you'll need to be signed into your Realeyes account (your log-in details are the same as the Dashboard). If you don't already have an account you can sign up for one here.
By signing in you will be able to track the statuses of your requests, as well as gain access to your organization's message board, where you can view any previous or ongoing discussions.
Next, select the 'Submit a request' tab at the top right:

From there, a number of fields will need to be filled in: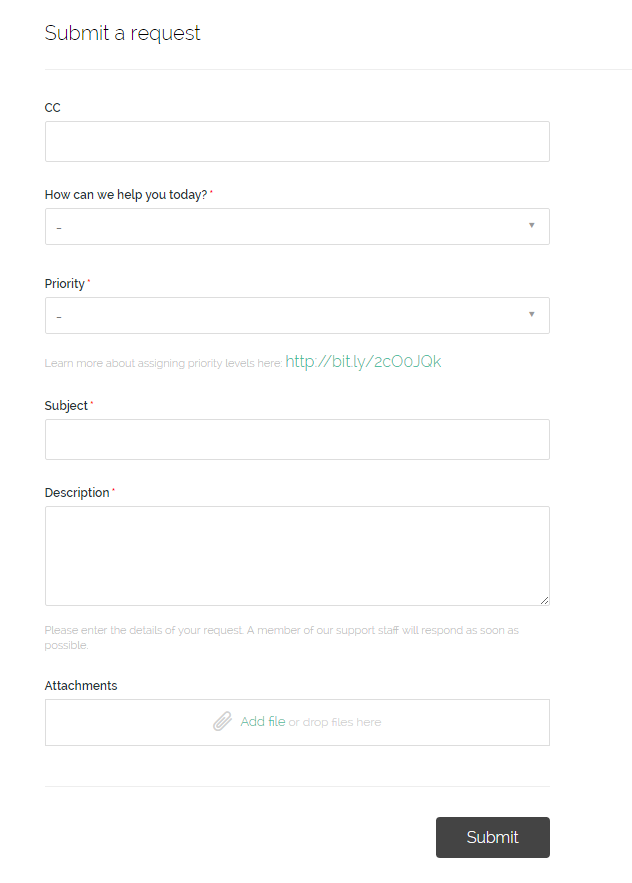 Cc: Enter any additional email addresses you want to include in the email chain.

How can we help you today: 

Select the relevant topic from the 

drop-down

 list.

Priority:

Select the relevant priority. You can learn more about selecting priority levels here.

Subject: 

Enter the subject of your request.

Description:

Enter a description of your request.

Attachments:

Attach any relevant files.
 Submitting a request via e-mail
You are also able to submit a request directly by email. To do so, you simply email support@realeyesit.com. 
Our systems will be able to automatically recognize the topic of the request if you include one of the following phrases in the subject of your email - allowing us to get back to you more quickly:
Project Order
General Enquiry
Tech Support
Account Support
Feedback
Billing
Job Application
Event Enquiry
Press Enquiry
Other
The same will happen with the priority of the request, if you include one of the following phrases in the email subject:
Low Priority

Normal Priority

High

 Priority

Urgent Priority
You can learn more about selecting priority levels here.
So, for instance, the subject of your email may be: "Project Order - Normal Priority". Capitalisation won't affect the sorting process, though the wording will need to be exact. If you haven't included a topic or priority, your request will still get to us - our team will manually assign them later.
The final step is to simply include your request or question in the email body. Once you send a request you will receive an email confirmation that it has been received. Your ticket will then be picked up by a member of our support team and we'll respond as soon as we can, and always within our target response times. 
You are also able to track the status of your request once it is sent. Learn more about tracking your requests here.